Home
Talk

13
276pages on
this wiki
Introduction
Welcome to Kaichou Wa Maid-Sama! Wiki
Our wikia is exclusively dedicated to everything about the Kaichou wa Maid-Sama! Anime and the Kaichou wa Maid-Sama! Manga created by Hiro Fujiwara. You can help us to expand our wikia by editing or by creating pages! We are currently editing over 276 articles since September 17, 2009.

WARNING
: This wiki is full of spoilers! Read at your own risk.
Synopsis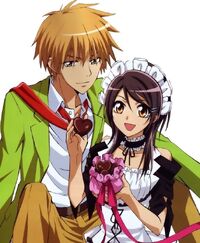 Once an all-boys school, Seika High, a renowned school full of reckless and filthy students, has recently become a co-ed school. However, with the female population still remaining a minority even after the change over the recent years, Misaki Ayuzawa takes it into her own hands to reform the school and allow a chance for the girls to feel safer in the rough environment. Even the teachers are on her side. Training, studying and even becoming the first female student council president of the school, Misaki has gained a reputation, among the male students body as an uptight boy-hating demon dictator and as a shining hope for the teachers and fellow female students. However, despite her tough-as-nails appearance, she secretly works part-time at a maid café in order to support her family. Unfortunately, her secret is soon discovered by Takumi Usui, a popular boy at Seika High.
Final Episode
Episode 26: That's Cunning of You Ayuzawa, Usui You Idiot!
After getting away from the crowd, Takumi and Misaki join a contest for couples, where thanks to her competitive nature and his teasing, they win the contest and receive a special prize for the post-festival fireworks. After the UxMishi concert, Misaki tries to find Sakura and Shizuko but finds Kūga instead, who is planning to stroll around the festival together with Sakura. After confirming Kūga is serious about Sakura, Kūga wonders why Misaki hasn't accepted Takumi as her boyfriend. Read More...
Final Chapter
Chapter 85
It´s the day of the graduation. Some students are still shocked about Misaki Ayuzawas part-time job. The Maid Latte-crew makes a surprise appearance in Seika High to congratulate all students. The story also skips to 10 years later with a wedding ahead.. Read More...
Featured Character
Takumi Usui (碓氷 拓海, Usui Takumi) is the male protagonist of the series. He is the most popular, smart and atheltic boy in Seika High who at first is seen as a "perverted alien" through the eyes of Misaki Ayuzawa. Takumi is very handsome, and most of the girls who see him fall for his looks instantly, thus resulting in many broken hearts). He is also is very passive and prefers to watch things happen as they come and go. Takumi keeps a nonchalant expression in almost all cases but has seemed to gain more emotion ever since he began going out with Misaki.

Click for more on this Character...
Vote for the next featured Article...

Affiliates
Want to become an affiliate of us? Then contact us.