Okay! First of all people who hate Usui should read this and those who are crazy for Usui shaould also read it too. Basically it's for everyone (sshhhh! Don't tell Usui)
Resons you should like...who am I kidding...LOVE Usui :
1. He is Hot! (Like cm'on every one knows that)
2. Voted Sexiest Male Anime 2010! (Ha!)
3. One-quater Brithish
4. A knight in shining amour (For Misaki >.<)
5. Top Stundent in Seki (That's REALLY good)
6. Can play violin,chess and has manners!
7. I'm seriously running out of options here so just go to Google and search Usui Tamaki!!!
And then You are in LOVE!!!!!!!!!!!!!!!!!!!!!!!!!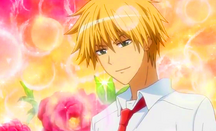 Ad blocker interference detected!
Wikia is a free-to-use site that makes money from advertising. We have a modified experience for viewers using ad blockers

Wikia is not accessible if you've made further modifications. Remove the custom ad blocker rule(s) and the page will load as expected.